Tag Archives:
Apostolic books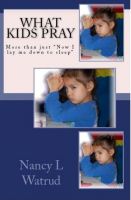 What Kids Pray by: Nancy Watrud
This is a lovely book that goes beyond "Now I lay me down to sleep…" As a veteran Sunday School Teacher, Nancy has heard it all. In this book she talks about all of the cute things that children pray as well as some of the more distressing things that children face today. She gives ideas for helping children to pray out loud and in front of others. She also has suggestions on how to deal with everything from shyness to over-active imaginations.
I think this would be a nice addition to anyone's home library, especially those who work with children. Nancy gives ideas for teaching in general, not just Sunday School. It's a very short book, but very sweet.
Available in paperback and as an e-book (kindle, etc). 
Also available on Amazon.com.
***FTC Disclosure:  This book was provided by the author in exchange for an honest review, no other compensation was given, all opinions are my own***
Defeat Fear Forever is now available on Amazon kindle! Check it out! 🙂
He'll Do It Again! It Is Time to Start Believing and Receiving from God by: Charlotte Pound
This book is wonderful! It's a real faith builder that delivers its promises. Charlotte's theme, 'If God did it before for someone else, He'll do it again for you, is prevalent throughout. Chapter titles include Acknowledge Him, Our Approach to God, Determination, Confidence, and thankfulness. She also discusses dealing with fear, depression, and failure. She devotes two entire chapters to miracles God did for people she knows personally (including herself) and again states the fact that God will 'do it again!' She talks about guarding against the 'Esau Spirit' and not valuing all the blessings God has already poured out upon us. In her final chapter, Reflection, she is forthright on dealing with disappointment, seemingly unanswered prayers, and negativity in general. We need to remember, purposing in our hearts to remember all the past times God has intervened in our own lives. She also offers some specifics on how to pull yourself out when Satan tries to make you feel depressed.
Highly recommend this book! Five stars! Available on Charlotte's website, Amazon.com, and Pentecostal Publishing House. Go to my bookstore page and get a copy.  🙂
***FTC Disclosure:  This book was provided by the author in exchange for an honest review, no other compensation was given, all opinions are my own***