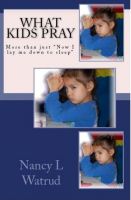 What Kids Pray by: Nancy Watrud
This is a lovely book that goes beyond "Now I lay me down to sleep…" As a veteran Sunday School Teacher, Nancy has heard it all. In this book she talks about all of the cute things that children pray as well as some of the more distressing things that children face today. She gives ideas for helping children to pray out loud and in front of others. She also has suggestions on how to deal with everything from shyness to over-active imaginations.
I think this would be a nice addition to anyone's home library, especially those who work with children. Nancy gives ideas for teaching in general, not just Sunday School. It's a very short book, but very sweet.
Available in paperback and as an e-book (kindle, etc). 
Also available on Amazon.com.
***FTC Disclosure:  This book was provided by the author in exchange for an honest review, no other compensation was given, all opinions are my own***