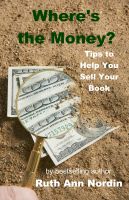 Where's the Money? Ideas on Book Promotion by: Ruth Ann Nordin
For those of us who have written a book, but aren't sure how to let the world know about it, this book helps tremendously. Ms. Nordin is a stay-at-home mom who has written and published over 17 books. She is now able to make a living with her writing, selling thousands of her books every month. 
Her advice is straightforward and easy, not 'salesy' at all. Her first tips include getting to know social networking sites like FaceBook and Twitter. Then, she goes on to talk about probably the most important thing in promoting a book and that's simply to write a great book! Then, you have to have a great cover. Like it or not, great covers sell books.
She also talks about starting an 'Author Page' on FaceBook and a 'First Draft' blog. The first draft blog serves two functions, it gives exposure to your book and you get to write. She talks about pricing and distribution as well.
One of the great things about this book is that it's free! Get your copy here.
With today's technology, it's easier than ever before to become a published author. Unfortunately, that same technology can be somewhat daunting. Ms. Nordin gives some easy-to-follow steps to getting out there!